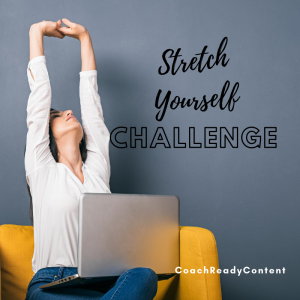 If you want to reach more people, you'll need to — s t r e t c h — yourself to be able to reach them. The best way I know to stretch my reach with content marketing is the annual Stretch Yourself Challenge held by Kelly McCausey of Love People and Make Money. 
Feast of Content Marketing
Kelly holds this live month-long challenge with her community every September (this year marks my 5th year doing the Challenge). It's a virtual feast of content marketing. Kelly's community is filled with people who are supportive, steadfast cheerleaders for each other. There is a diverse cross-section of business owners and plenty of opportunities for joint ventures within this multifarious community.
This Is How It Works
Throughout the month of September, the stretchers are earning points and prizes for stretching outside their comfort zone by doing one or more of the challenges in the guidebook or creating their own content marketing challenges. There are extra credit opportunities, guest speakers, and collaborative opportunities. A unique opportunity is available, called Coaching in Triads, where you join up with 2 other people in a Zoom room and coach/brainstorm/mastermind with each other. The community hub for the challenge is outside Facebook in a private forum. That means you don't have all those FB distractions going on while you're interacting in the forum with the other stretchers.
There Is Nothing Else Like The Stretch Yourself Challenge. It's Unique!
There is literally nothing else like this in the world of content marketing. I would venture to say you won't be able to find anything like this in the world. . . period! No one has created a month-long challenge like the Stretch Yourself Challenge.
Kelly publishes a new guidebook each year. She updates the different challenges inside the Stretch Yourself Challenge annually so as to include any technology/technique updates or changes. She also adds new 'outside the box' challenges each year to tap into new ways to stretch yourself and get your message out.
Available All Year Long as a Self-Study
The second best way I know to stretch yourself and increase your visibility is to do the Stretch Yourself Challenge as a self-study any time throughout the year. Kelly makes the guidebook available as a self-directed information guide so you can do one or all of these challenges on your own. You won't have the experience of the whole community going through this together unless you join the Stretch Yourself Challenge at the beginning of September. You can, however, gather a bunch of entrepreneur friends who purchase the self-study guide and all do the challenge together as a self-study.
The Simple Reason Why I Recommend SYC
I recommend the Stretch Yourself Challenge because it works! Plain and simple, content marketing is the best way to become visible, attract your ideal audience, and showcase your expertise. Kelly teaches how to do this in so many different ways.
You're able to find your content marketing sweet spot(s) with just the right amount of stretching for you. Once you've tried some of the less intimidating stretches, it's easier to stretch yourself with the more scary, freak-me-out ones. After you've done a few of the challenges that originally made you pee in your pants at the thought of them, you start asking yourself why on earth it ever scared you in the first place! That's how this thing works so well. It's not sink or swim. You get to decide how quickly you wade into the pool.
While the experience of going through this live with a group of 100+ people is special, the end result of stretching yourself with the 21 different challenges is what everyone's after. And you can do this all year long as a self-study by just following the guidebook.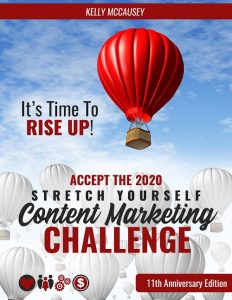 Take a look at the 21 different content marketing challenges that make up  the 2020 Stretch Yourself Challenge:
Challenge #1: Set Up Google Analytics Reporting (NEW in 2020)
You'll want to know how to track what you're doing with your marketing efforts. So that means you want to get analytics set up on your website. This challenge may take you out of your comfort zone from a tech standpoint, but the instructions are simple to understand and this challenge only takes about an hour of your time.
Challenge #2: Share Your Expertise & Promote It Like Crazy!
Lots of people create blog posts and then never get eyeballs on their efforts. 'If you build it, they will come' worked for Ray Kinsella in Field of Dreams, but unless you actually promote that blog content, you're not going to get much traction from it. This challenge is all about creating compelling content and then making it visually attractive and easily readable. The emphasis is on sharing the content to get the most eyeballs on it. This challenge is about learning how to 'build it, effectively and repeatedly share it, and they will come.'
Challenge #3: Create A Collaborative Blog Post (NEW in 2020)
Gather a group of other smart people together and collaborate for a cool piece of content to showcase everyone's expertise. This challenge will stretch you to ask other entrepreneurs to share written content on a topic of your choice and you will put it together on your blog and share with the world. It would be awesome to have every one of your collaborators do the same thing with a different topic so you and everyone else can be showcased on their blogs, too. Sort of like a 'round robin' of blog collaborations. Think of all the eyeballs on your content with that type of joint venture!
Challenge #4: Tackle A Dedicated Affiliate Promotion (NEW in 2020)
Do you want to know how to break into affiliate marketing? This is the best way to get started and you won't feel salesy or sleazy doing it this way. You'll learn how to promote a product to your email list and earn commissions when someone buys through your affiliate link. Passive income is sweet!
Challenge #5: Tackle A Content Refresh (NEW in 2020)
Once you've been creating content for a while, it's a great idea to regularly go back and refresh that content. Links, images, and videos need to be checked periodically. Content needs to be updated. This challenge also helps you figure out what type of content you need to create more or less of in the future based on your analytics (see challenge #1 above).
Challenge #6: Hold a Webinar or Teleseminar To Grow Your List
Raise your hand if you would like to grow your list! 🤚  🤚 This challenge may sound intimidating, but remember, this is the Stretch Yourself Challenge and getting outside your comfort zone is the name of the game. This will definitely get eyeballs on you and your content. And it will grow your list and possibly make you some money depending on how you position it.
Challenge #7: Host a Facebook Live Series  
You can really stretch yourself with a Facebook Live Series since this seems to be a huge intimidation factor for many people. Yet, this is a great way to showcase your content and reach more people. In 2019, I did this challenge and presented a series of Facebook lives where I talked about all of the marketing and mindset I spotted while watching The Marvelous Mrs. Maisel. I had so much fun doing it (after I got past the intimidation factor) and there was a lot of great feedback and engagement.
Challenge #8: Offer & Host A Group Coaching Intensive
Even if you don't consider yourself a coach, you can definitely do this. Get a group of people together for a series of meetings (virtual or in-person) to present content to teach them something, answer their questions and help participants get 'unstuck' is what this challenge is all about. This is a great way to grow your list and a great way to make money, too.
Challenge #9: Create a Small & Mighty Gift Report
Do you wonder how people create those great reports for opt-ins or for sale? This challenge will help you get your first or next short report created and use it to grow your email list.  
Challenge #10: Make an Intentional Connection
This may be one of the most stretchy and intimidating challenges for many folks. This is about making an authentic connection with an Influencer you're following on social media. You don't want to come off as a stalker or a creep, so follow these relationship-building guidelines in this challenge. You'll more likely make that intentional connection. And it will be genuine and authentic.
Challenge #11: Start A Facebook Group
Love community? Then this is the challenge for you. Challenge #11 helps you avoid a lot of the reasons Facebook Groups flop. Create a community you love with the people you love to hang out with.
Challenge #12: Gather & Publish Testimonials
Social proof is so important when you're promoting your services and products. Asking for testimonials and feedback is often difficult for most business owners. Solve that dilemma with this challenge and learn how to create a system to get that social proof from happy and satisfied customers and clients. That will lead to even more raving fans.
Challenge #13: Host A One Day Virtual Summit
Virtual Summits are trending big time in 2020 and beyond. The Covid-19 pandemic created a necessity to switch live events into the virtual realm. People embraced this method of teaching and showcasing their expertise. Hosting a virtual summit is a great way to joint venture with other experts, grow your list, grow your Facebook group, and create an income stream with a product you can continue to promote long after the event has ended. People pay a lot of money for a course to teach this particular marketing technique. You get this and 20 other techniques all in the same guidebook!
Challenge #14: Choose A Live Event To Attend
In-person conferences, retreats, live networking, etc. may not be possible during the pandemic, although it won't go on forever. Attending a live event is a great way to get outside your comfort zone and meet new people, create joint venture partners, and learn new information. You can even combine this challenge with challenge #15 to really increase your stretch as well as your visibility.
Challenge #15: Volunteer/Apply To Speak Live
The number one fear that humans have is the fear of public speaking. Yet, public speaking is one of the best ways to get eyeballs on you and your message. Stretch yourself out of your hidey-hole and volunteer to speak live. There's no better way to showcase yourself as the expert and leader that you are. Standing on the stage in front of a live audience is the best way to claim your superpowers.
Challenge #16: Participate in a Bundle Sale or Giveaway
Bundles and giveaways have been the primary way I've built up my list over the past few years. This is a great way to add new subscribers and bring new people into your community. There is a right way and there is a wrong way to go about picking a bundle or giveaway to participate in. You'll also read about the best strategy for you to decide what to contribute as your giveaway item. This is another one of those marketing strategies that you could spend a lot of money to buy a course to learn how to do this. You've got all you need right here in the SYC (along with 20 other strategies in the other challenges included in the guidebook!).
Challenge #17: Plan A Micro-Continuity Membership Program
What is a Micro-Continuity Membership, you ask? This is a subscription-based product with a low monthly price tag. It's one whose price is so low, it's a no-brainer for customers to say yes and stay subscribed. Learn the way to come up with the best idea for your particular audience and then implement it to have some recurring income.
Challenge #18: Set Up A Tripwire Offer
You've seen these 'tripwire' offers that show up right after you opt-in for a freebie. There are lots of great reasons to add a tripwire in your funnels and now you can learn how to do it the best and most effective way.
Challenge #19: Start a YouTube Channel (NEW in 2019)
Do you have a YouTube Channel? Claim your YouTube Channel and start creating video content you're proud of while making it easy for your ideal clients to find you on yet another platform besides your blog.
Challenge #20: Create A TikTok Account & Post Three Times (NEW in 2020)
TikTok is not only for Gen Z. Internet marketers of all ages have been finding a lot of success on this platform. Learn how to use this social network while it's growing and evolving.
Challenge #21: Create A Twitch.TV Account & Stream Three Times (NEW in 2020)
Twitch.tv is not just for video gamers! Who knew just how you could grow your visibility for your internet business with this platform? Kelly McCausey did! She saw the opportunity with Twitch.tv and she includes all the deets for you to harness this 'out of the box' platform to stretch yourself and grow your reach.
Why I'm A Hell Yes To The Stretch Yourself Challenge Every Year
The Stretch Yourself Challenge totally changed my business and my mindset when I participated in 2018. As my challenge that year, I hosted a fundraiser bundle that raised money for the non-profit group, BlinkNow. It was the first and most successful project I had ever completed online! I know I would never have done that if it hadn't been for the support of Kelly and the community in the SYC that year.
2019 Stretch
In 2019, I did my first ever Facebook Live series which totally intimated me to think about doing it at first. I finished a number of other challenges that year as well. I took advantage of all the extra credit opportunities and I became one of the top achievers for the 2019 SYC, earning one of the top 7 prizes. Not just for the month of September, but for the rest of the following year, I continued to stretch outside my comfort zone. The effects of the Stretch Yourself Challenge extend far beyond the one month of September. Once you start realizing how well this works during the month-long challenge, stretching outside your comfort zone just becomes something you do naturally and regularly. It's like turning on a switch!
2020 Stretch
In 2020, I committed to hosting a virtual summit sometime in the year, so Challenge #13: Host a Virtual Summit became my main focus. There are several other challenges that I worked on simultaneously during the 2020 SYC, too. At the time this blog was written, the Live 2020 Stretch Yourself Challenge has not been completed. Anyone can be a finisher! And anyone can win top prizes!
Your Rx to Get Stretched With Your Content Marketing Any Time Of the Year
Get serious about reaching those people who need what you're offering. Now is the right time to stretch yourself a little or a lot. You don't need to wait until September to do it with a group (although I would love to see you inside the group with me next September!). So, get your guide now and start doing a stretch and work your way through the book.
If you're waiting for permission, consider this your Rx. Go get your Stretch Yourself Challenge self-study and begin right now! And if you want someone to go through it with you during any of the other eleven months of the year, give me a shout–I might just take you up on that and do some of the challenges with you all over again!
*This content contains affiliate links. For more information, please see our disclosure policy on our Legal Stuff page.
Short on time now? Pin this picture to come back later and read.