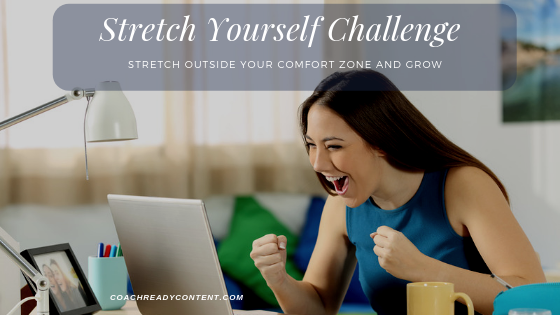 Who likes getting outside your comfort zone, stretching to do something that feels uncomfortable and foreign to you?
Can I get a show of hands?
Hmmm. Just like I suspected. I see no hands raised here.
It's uncomfortable to get outside your comfort zone and we tend to not want to do that. However, it gets pretty boring inside that comfort zone after a while. And the reality is that all the great things in life are outside those comfort zone walls.
This poem sums it up pretty well, though . . .
The Comfort Zone
by Anonymous
I used to have a comfort zone
where I knew I couldn't fail,
The same four walls of busywork
were really more like a jail
I longed so much to do the things
I'd never done before,
But I stayed inside my comfort zone
and paced the same old floor
I said it didn't matter
that I wasn't doing much,
I said I didn't care for things
like diamonds or furs and such
I claimed to be so busy
with the things inside my zone,
But deep inside I longed for
something special of my own
I couldn't let my life go by
just watching others win,
I held my breath and stepped outside
to let the change begin
I took a step and with new strength
I'd never felt before,
I kissed my comfort zone goodbye
and closed and locked the door
If you are in a comfort zone
afraid to venture out,
Remember that all winners
were at one time filled with doubt
A step or two and words of praise
can make your dreams come true
Greet your future with a smile,
success is there for you!
Stretch Yourself Challenge 2019
Every year in September, Kelly McCausey from Love People Make Money hosts a Stretch Yourself Challenge. 2019 marks the 10th year for Kelly hosting the challenge as well as my 4th year participating in the challenge.
The Stretch Yourself Challenge is designed to help entrepreneurs do something for their business around content marketing that they otherwise would not be comfortable doing. Things they most likely would not tackle alone. There's a huge community component to help support and push as everyone chooses a challenge or two and steps outside their comfort zone. In 2019, close to 100 participants said yes to the challenge and there will likely be more stretchers joining by the end of the first week.
Choose Your Own Adventure
Since this is a 'choose your own adventure' type of challenge, you get to pick one or more of 15 different challenges to kick your own butt outside your cushy comfort zone. Some of the challenges are relatively easy–not intimidating at all. Like sharing your expertise through writing a blog post and then promoting it to increase your visibility. That rates low on the intimidation scale to most people.
Some of the challenges are scary as hell, though. Like volunteer or apply to speak live for an event or start a YouTube Channel! Since fear of public speaking is higher than the fear of death, you can imagine how intimidating those challenges are to most participants. Yet every year there are people who pick the scariest challenges to jump into and they finish them.
It's you who gets to decide which of these adventures you want to raise your hand to complete. You can actually do more than one challenge during the month if you choose.
But Wait, There's More!
There are fun additional events throughout the month with guest speakers, prizes for finishing the challenge (the rules for what constitutes a finisher change every year) and in 2019, team competition has been introduced!! Additionally, grand prizes are offered for those overachievers who rack up the most points during the month–points that are awarded for posting your daily activities towards your challenge, tackling some additional mini-challenges and sharing with others.
Why I'm A Hell Yes To The Stretch Yourself Challenge
The Stretch Yourself Challenge totally changed my business and my mindset in 2018. I tackled and completed hosting a fundraiser bundle that raised money for a non-profit. It was the first and most successful project I had ever completed online at that point!
I'm doing the Stretch Yourself Challenge again in 2019 because I've learned just how great this challenge is to help me create momentum to finish the year strong. I know I'll learn new things with the support of a great community and some friendly competition. I know I'll be tackling tasks that I would otherwise keep putting off unless I draw that line in the sand and declare that I'm in to complete something!
For example, in 2019 I'm planning to create a Facebook Live series over 5 days. After declaring it all over the internet now, you bet I feel like I can't back out! I'm also planning to fit in several other challenges from the guide–after all, there are 15 challenges and 30 days in September!
You Can Stretch, Too!
When you join the Stretch Yourself Challenge in the first week of September, you'll have the added benefit of going through the month with the support of a group of like-minded stretchers competing and cheering you on.
And if you're reading this blog past the month of September, never fear–the Stretch Yourself Challenge is available yearlong as a self-study! And if you want a cheerleader and a competitor to go through it with you in any of the other eleven months of the year, give me a shout–I might just take you up on that and do it with you all over again!
*This content contains affiliate links. For more information, please see our disclosure policy on our Legal Stuff page.