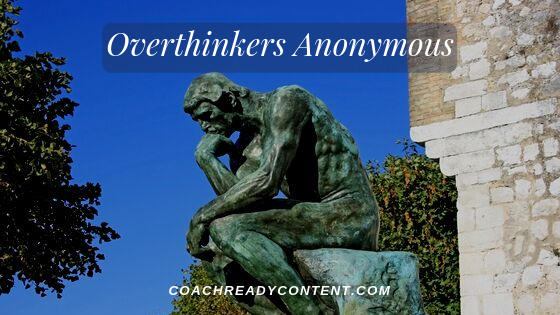 I'm starting a new meetup for people who find themselves overthinking everything. Wanna join?
Or do you want to overthink the pluses and minuses before you can decide?
I'm thinking we could have a 10 step program in our Overthinkers Anonymous meetings. No, on second thought, maybe it should be 5 steps since 10 is too many, don't you think?
Or wait–don't all 'step programs' have 12 steps? See–now I'm already overthinking this thing!
Overthinking reminds me of a game called tetherball that was popular when I was a child. In this game, a ball is tied to a rope and suspended from the top of a pole. The idea was to hit the ball in your direction to wind the rope around the pole taut while an opponent attempts to hit the ball in the opposite direction, trying to wind the rope in their direction. You hit the ball until that rope wound so tight in one direction that it could no longer move at all.
Overthinking causes the thinker to go round and round the same pole without ever getting anywhere. All overthinking ever does in the end then, is tie you up so you're unable to move.
Overthinking and the Entrepreneur
Overthinking can be a huge roadblock for entrepreneurs. It prevents many entrepreneurs from sharing their gifts with the world. Successful entrepreneurs make a decision, take action and adjust or modify based on how that first decision succeeded . . . or didn't succeed.
The difference between these successful action-takers and the overthinkers is the willingness of the former to risk failing at something. They recognize that they only need to then adjust if things aren't going in the direction they want. They realize it's not the end of the world if things don't come out perfectly.
The Mantra of the Overthinker
The overthinker, on the other hand, needs to look at all the angles and 'what if' each decision every which way. And all scenarios are usually viewed from a negative standpoint. What if this disaster occurs if I choose this way? What if that disaster occurs if I make that other choice?
'What if' is the mantra of all overthinkers. If you find yourself 'what if-ing' every action without the ability to move forward with a firm and clear decision, then I would say it's a good bet that you're overthinking.
Overthinking and Perfectionism
It's important to see how overthinking and perfectionism intersect. These conditions are kissing cousins and they will both take you down with analysis paralysis. The quote to keep in mind when you find yourself overthinking and/or working to perfection is this:
I don't know who originally said it but this should become the overthinker's lifeline and daily affirmation. Write it on a sticky note and post it near your computer. Slap it on the mirror in the bathroom so you see it first thing every morning and again at night before you go to sleep.
Quit Doing This
If overthinking is controlling your mind, then I want you to consider quitting the following 4 things that are often at the root of overthinking.
Quit fearing change. Here's what I know; the only constant in life is change. Usually, there is another underlying fear associated with change. That is the fear of the unknown. This fear of the unknown is grounded in a lack of confidence to handle whatever happens. Recognize that change is inevitable and the more ongoing changes you successfully handle in your life, stop and give yourself a pat on the back for getting through them. By recognizing the great job you're doing with each of these ongoing changes, it will boost your self-confidence to continue meeting the next inevitable change that will come along.
Quit trying to please everyone. You simply can't please everyone and the sooner you realize this and stop trying to make everyone happy with your decisions, the quicker you will stop overthinking every. damn. decision.
Quit living in the past. What's happened in the past is past. If you find yourself replaying a conversation and what if-ing you had said or done this or that–that's classic overthinking and it leads nowhere good. If you think something in the past was not handled well by you and you owe someone an apology, then get the apology over and let it go. You can't control what others have done in the past or how they might react to one of your apologies, so let their behavior go and learn a lesson from it if you were wronged.
Quit putting yourself down. You would never talk to other people the way you are likely talking to yourself when you beat yourself up with negative self-talk. Most likely, this negative self-talk is coming from something that you overthought and you're not happy with the way things turned out. The circuitous thinking then goes like this–I f'ed up and made the wrong choice and I should have thought about this angle or that angle. And what was I thinking?! I'm such an idiot/stupid jerk/loser–you get the idea. This isn't at all productive. Stop it. Now.
When you're not in overthinking mode, you are able to make decisions and move forward. But besides quitting the above things, just how do you stop this overthinking cycle?
Overthinkers Anonymous 5 Step Program
Here are our 5 steps to the Overthinkers Anonymous meetings to get you back on track to stop overthinking everything.
Awareness is key. As with most behavior that you want to change, unless and until you're aware that you're doing the behavior in question, it's not going to change. Become aware of the 'what if' circle of thinking and when you recognize this is happening, be curious about it enough to put a pause on it. Be in tune to your decision making–are you avoiding decisions because you're inspecting from this or that angle and what if-ing all the possible combinations of scenarios?
When you become aware that you're overthinking something, then start moving. Take a walk, get outside, dance in your room, or do power poses. There is scientific evidence that power poses–Wonder Woman stance with legs apart, hands on your hips and chest thrust forward– will lower your cortisol, aka the stress hormone. Your cortisol level is likely elevated after a good overthinking session. Power poses also increase your testosterone level which helps boost your confidence. Having increased testosterone/confidence hormone may help you move forward with making a decision more confidently.
Usually overthinking becomes a bath in automatic negative thoughts (A.N.T.s) so squash those ANTS! When you're thinking about this [negative outcome] possibly happening from choice A or choice B, turn that negative scenario around and think what if this [positive outcome] occurs from choice A or B instead? Replace those negative thoughts with positive ones–it will take some practice but start now and build up possible positive outcomes to consider–not only the negatives.
Banish the perfectionist monster. Perfect is an illusion and we never truly achieve it. Done is better than perfect and allows you to move on to the next thing. If you need to make an adjustment in the way things are heading after you've made a decision, then make the adjustment. Waiting for perfect is never as smart as making progress. Perfect is not coming, so make a decision and allow movement forward.
If you must worry and overthink, then set a timer for 5 minutes to think about all scenarios. When the timer goes off, set it for another 5 minutes and write down all your overthinking. When the timer goes off the second time, take your page of overthinking and get rid of it. And then make a decision and move on.
Don't Let Overthinking Hold You Back With Your Content Creation
Overthinking, perfectionism and analysis paralysis will all hold you back from getting your message and your gifts out to those who need to hear you. It keeps you small and unable to connect with your ideal clients and community who have been looking for what you're offering.
So if you're overthinking the topics you want to write about in your blog or newsletter–make a decision about one thing right now and write. Set a deadline to get it written by a specific date and then do it. Publish it and then make another decision about your next blog topic or newsletter focus. Rinse and repeat. Rinse and repeat.
Your people need to hear from you. Stop feeding the analysis paralysis–become aware of the overthinking and shut it down with the steps above. I'd love to hear your thoughts on this and how you've overcome overthinking and moved forward. Leave a comment below.