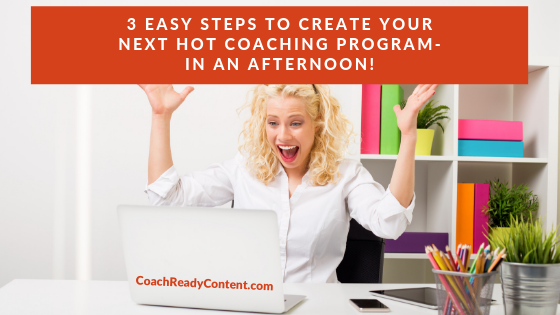 Let's play a game of Truth or Dare. You go first!
How many partially-written information or printable products, books, and/or group coaching programs do you have sitting around on your computer?
If you're like most entrepreneurs, the truthful answer is a very loud "far too many!"
You know which incomplete products I'm talking about. The ones where you suddenly got a great idea for a product and initially went to town creating it. And in spite of that initial thrust to create– it's never been finished, launched or published .  . . yet.
You're either still 'tweaking it to make it perfect' or it's still sitting there half-finished in a folder on your hard-drive like a forgotten sneaker in the back of your closet.
And to be truthful with you (someone has to tell you this so it might as well be me) the reason you have all of those incomplete books and programs isn't that you don't know your subject, or because you're a poor writer, or even because you don't have time to devote to working on them.
The real reason these products are not finished is simple. It's because you're overthinking the whole process.
You've bought into the belief that you have to:
Create something from scratch
Create something that looks just like every other program in your niche
Create something so comprehensive and massive that it encompasses every aspect of your subject, from soup to nuts.
And every one of these beliefs is holding you back from creating the exact program your market is looking for—the solution to a challenge they are experiencing right now. And believe it or not, the answer to their struggle just happens to be something you can easily put together in an afternoon (or less) with the content you already have on hand.
All you need to do is walk through these three steps and you'll have your first product ready to go.
Step 1: Identify The Problem
This is not a huge, overreaching problem such as "how do I build a mailing list" but rather a single problem that has a single solution. So rather than trying to solve the problem of list building, try solving the problem of setting up a mailing list.
If you're a health coach, the overreaching problem for your target market could be "how do I lose weight"? Then rather than solving the big-picture problem of weight loss for them, try solving one piece of their problem. That might look like 'how to read a menu in a restaurant for health-conscious choices' or 'how to brown-bag your lunch for weight control and save yourself money, too!'
What you want to do is identify a single problem that you very likely have the solution for right in your business documentation for your own business practices or in your own personal healthy lifestyle practices.
Step 2: Define Your Process
Using the example above of setting up a mailing list, chances are you have worksheets and checklists for your VA (or you) to follow. It's a step-by-step plan that walks you or your team through the process of setting up a new mailing list. And if you don't have that checklist completed, right now is a great time to create one!
For someone who's struggling with getting their first autoresponder set up, this simple document can be a real lifesaver.
Think back to when you were new to some challenges you hit up against in your business or your life. Remember how you felt clueless. What would you, the newbie, want from an experienced mentor to walk through with you–something that you've now already figured out and systematized? Something that you think everyone already knows–but in actuality, they're dying to get their hands on this information that you already take for granted.
Go back to thinking like a struggling newbie in your niche. The help you can provide that person is badly needed.
Step 3: Share What Works
That's it! Package up your already existing step by step documentation/checklist/system and voila! You have a new product you can get up for sale in a single afternoon.
Now, what are you waiting for? You can have it done by tonight and offered for sale by tomorrow!